The Recording Studio
The recording studio has a sweet-sounding live room, stocked with a complete Pearl and DW drum kit, Yamaha U1 Piano, Marshall Amps, Fender Amps, Peavey Amps, and a full PA system. Mirrortone's main control room is designed around a Protools 12 system, Trident Console, with an Apollo 16 interface to utilize the digital emulations of classic analog gear for realtime recording processing. In addition to the main system, Mirrortone Recording Studio houses select outboard gear for advanced mixing and recording applications. The right music producers plus the right recording equipment equals the best possible tracks.
A completely soundproof vocal booth ensures that every subtlety of the singer is captured and can be mixed appropriately. There are sightlines between the live room, control room, composition studio, and vocal booth so that full bands can perform and record live, yet in isolation. A fourth room houses a composition suite that doubles as a nap room for those long recording sessions. In larger band situations the additional composition suite can be dialed into the recording for another isolation room.
Mirrortone Studios Control Room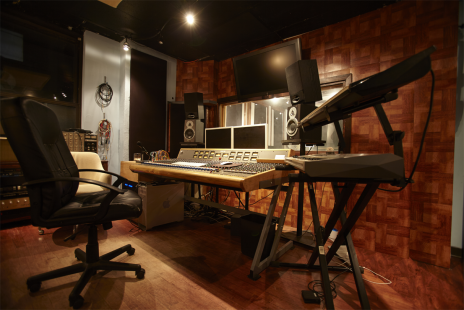 Rocking a vintage Trident 65 Recording Console, one of the best vintage boards you will find in a Manhattan recording studio, our control room is setup for comfortable mixing, recording, and producing.
Mirrortone Studios Live Room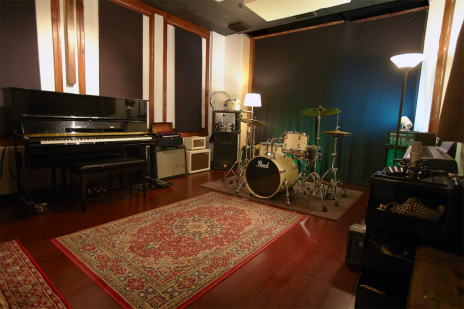 Stocked with a Yamaha U1 piano, Pearl Studio Drum Kit, a top-notch mic locker, collection of premium amplifiers, our live room is large enough to record a 6 piece ensemble and intimate enough to cut vocals.
Live Room

We are not just engineers and producers, we are also musicians. When we are not recording other musicians we are playing and recording our own music. With a great collection of instruments we produce tracks for our artists as well as television, film, and commercials. Details
Rack Gear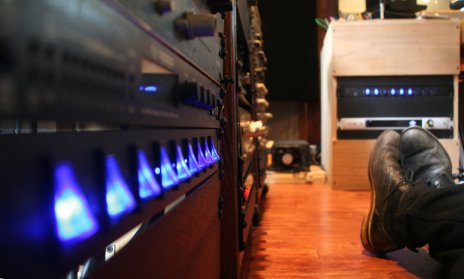 Our studio is built around having the best of both worlds, analog and digital. If there is a plugin for that, we have it. But sometimes we like to get on the floor and turn some dials on our rack gear.
Trident 65 Recording Console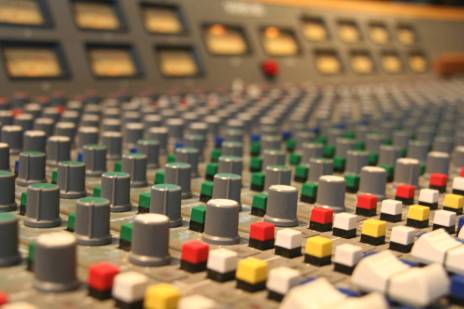 Perhaps one of the main reasons people love our recordings is because we use some of the best preamps ever created, the Trident 65 rocks 32 of these vintage warm preamps.
Vocal Booth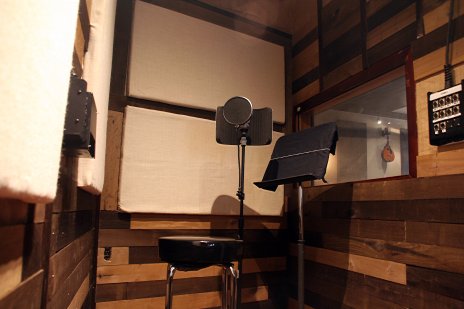 Our isolated vocal booth is custom finished with repurposed wood to get the warmest vocals we can. Unlike most studios, our iso booth is large enough for more than just one person, and there are site lines into all other rooms of the studio.
Piano and Drums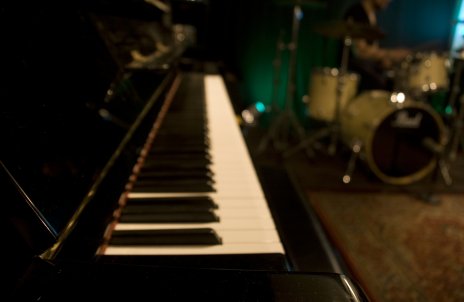 Two of our favorite instruments to record in one picture. Come record on our Yamaha U1 piano, heralded as one of the best pop and jazz pianos ever created, and found on records by Cold Play, Alicia Keys, and Chick Corea. Our drum kit is a Pearl Studio edition with fresh heads, a DW snare, and an array of cymbal options.